Hi 5Lqep,
Kindly refer the below link to download and install current CIS/CFW/CAV.
If the error occurs again, kindly report back.
Thanks
C.O.M.O.D.O RT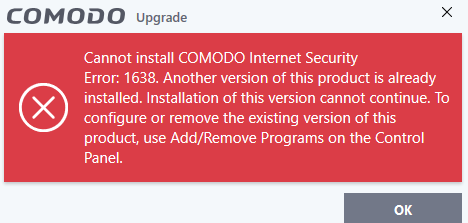 Hi 5Lqep,
Refer thw below link.
Thanks
C.O.M.O.D.O RT
@C.O.M.O.D.O_RT I got this error using the installer you linked
Please help me my internet is not working
Windows 11 22H2
@C.O.M.O.D.O_RT I fixed it. Deleted all comodo files and registry as much as I can. then copied it from windows 10 VM (i am on win11)
Hi 5Lqep,
Thank for sharing the information.
FYI: We have reported the ciscleanuptool issue to the team and they are working on it.
Thanks
C.O.M.O.D.O RT