i just hope it gets fixed soon. im sure egemen will let us know whats going on tomorrow
It looks like there is GUI bug (two Operations columns overlapping) in Scanning Results window (15:50 min).
Have you reported it?
egemen, please add an "Undo" option or, at least, a confirmation pop-up window when user deletes something.
Thanks for the update. Like the new GUI :-TU.

No I have to reported it, I would think that the video is enough. Also there is a conformation window but I miss read it. I would like an undo function or a backup function if something happens. how it should work is once it is done scanning anything you delete it backup up. When you close the program if any changes to the registry have been made it asks you to reboot. That way you can check to make sure your changes are ok.
:-TU Good job Comodo-Team!
I hope we can see some of this function in CIS 6.0…
Doesn't this stuff end up in Quarantine?
Ok, I have just tested CCE vs ZeroAccess.
I grabbed a sample and run it. Then i tried to run KillSwitch but ZeroAccess prevented it from running and made it unable to run permanently.
I run CCE - it went just fine - it did a scan - it detected malicious process of rootkit.
See picture: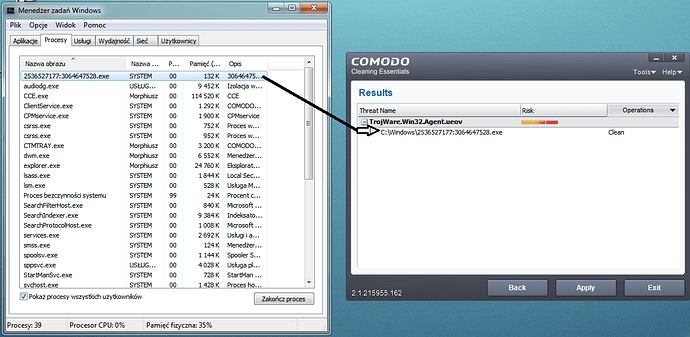 Applause for CCE for not being terminated and destroyed by ZeroAccess during scanning. :P0l
I hit Clean and restarted the system.
After restart I didn't see any trace of ZeroAccess anymore: :-TU :-TU
See image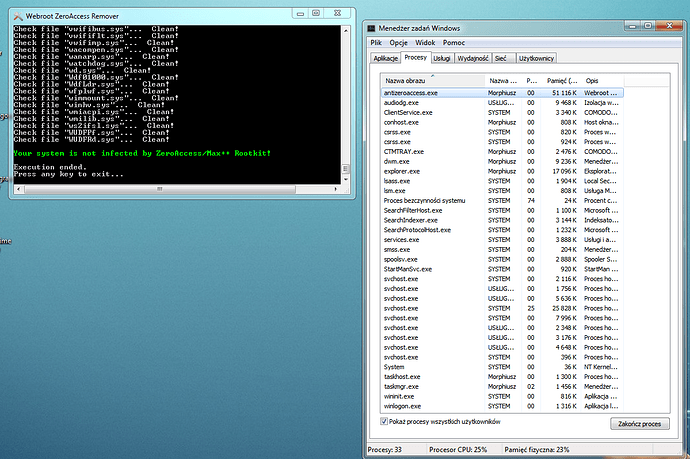 But there are few problems:
KillSwitch is still vulnerable.
After restart I checked the folder and

CCE.exe get modified as well

(fortunately it deleted the rootkit and then dead :))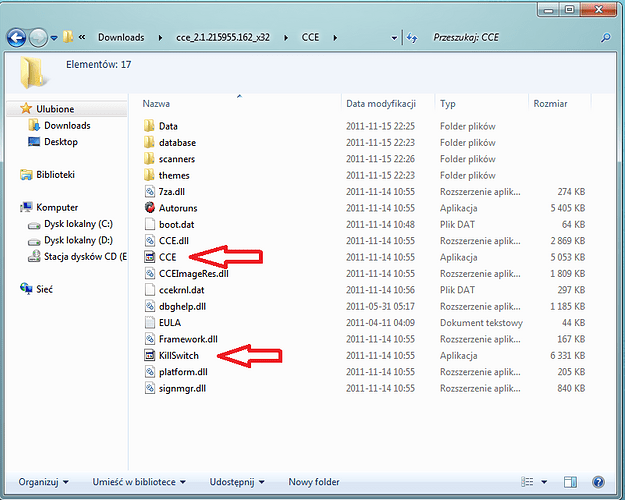 Another problem: Aggressive mode cannot still terminate some FakeAVs - I guess it's because they don;t terminate running processes - they stop them from running.
I know that command prompt can run just fine under these fakeAVs, mabye that is the key (somehow use that method).
I have this sample of Rootkit and FakeAV as well, so if you want them just tell me.
egemen can the right click option be added. send to then give options for valkyrie and virustotal. it was in kilswitch when it was based on process hacker. its a very useful option. also can we have an option to "open in folder" like it autorun analyzer
thankks for the great product
The Autorun Analyzer is powerful. I can use it to deactivate right click menu items that can't be detected by other right click management utilities.
I hope it will allow management of service items to set the "auto, manual, disable" attribute too.
Excellent product.
CCE is a VERY POWERFUL product, please use it with care.
Its too powerful for an average user. thank you
Are you sure?
I just did a scan with HitmanPro afterwards and the rootkit was still alive.
That may be why access to CCE and KillSwitch is still blocked.
So CCE still fails ZeroAccess.
Unfortunately yes, zeroacess file still remained, detected by kaspersky tdss killer. Can you send me the sample?
The new GUI is very nice :-TU
Its disinfection power is good? are Someone tested it?

I changed many options in internet explorer like homepage, private settings, security settings and QuickReapir under Killswitch didn't say that anything was modified - Internet Option Status = OK.
I think it's supposed to fix the 'hide options' policy tweak in systems registry.
You are not malware.

I really like this latest version. Very impressive.
we are excited the announce… ? :azn:
fix this typo

is anybody else able to update CCE? Melih said the updates are fixed but cce wont update on either of my computers. iv even tried redownloading it