It's already November !!!
Hi Henrique_RJ,
Thank you for reporting.
The CAVL development is discontinued and there is no plan to build new version at the moment.
We will update you as soon as we get update from the team.
Thanks
C.O.M.O.D.O RT
But I was assured that there would be a new version of CAVL for 2024.
Hi Henrique_RJ,
Ok, let me check with the team and update you.
Thanks
C.O.M.O.D.O RT
Is there a new version for 2024 or not after all ?
They said there would even be CIS for Linux.
Searching the forum, while there was speculation from a user or two, I can't find any record of confirmation that CAVL will be further developed ore released. Also, it's sub-topic was moved to Discontinued Products some time ago.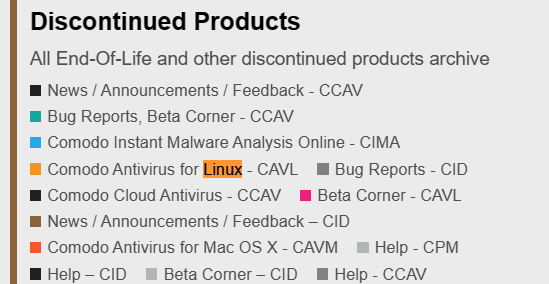 Hopefully the Comodo / Xcitium Team will confirm but last official CAVL was 10 years ago.
CIMA is not discontinued its integrated in Xcitium Verdict Cloud and works perfectly like 10 years ago
This topic is regarding Comodo Antivirus for Linux not Comodo Instant Malware Analysis.
I know but i am saying CIMA/XIMA is integrated in Xcitium Verdict Cloud and works perfectly