Now playing:
Carcass - Black Star
yes the pic is the death star.
japo, ■■■■ funny you say the deathstar is fully operational!!! you mean the moon was the deathstar all this time?? lol
■■■■ I always knew something was wrong with that moon. We are being watched!
(V) :THNK
You guys really dislike my pic???
hmmm, maybe i change it, but I love STAR WARS!
I love the sight of the Death Star. It's a planet killer, it's like, "you're killing me", but billions of times at once! It's too funny!

(Really there was nothing wrong with it, both according to forum policy and to my taste–and the former is the only that counts.)
Looky my pic is scarier and knows more than yours!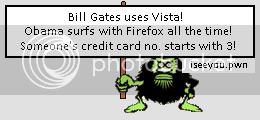 Really what I mean is that people nowadays scared of what Google knows of them (no more than what they told it themselves), malware voodoo etcetera, is like people in the XIXth century scared of electricity.

Ahh, you're one of the best mods I have ever seen

You can (and should) allow yourself to be a little bit aroggant to others sometimes

(And I ofcourse agree that U and L.A. now better how to remove useless sfuff)

Ahh, you're one of the best mods I have ever seen Smiley You can (and should) allow yourself to be a little bit aroggant to others sometimes Wink
Don't ever tell such words to a mod out there, Commodus. LOL.
Soya has not yet been infected. (:CLP)
Don't ever try to spread THAT kind of virus (being a well known disease on certain other boards). (There's no COMODO plan yet to create heuristic shields or behaviour blockers for forums, that'd face the danger of arrogant devils being let loose.)
(:WAV)
■■■■ you are too funny! I am glad you like the deathstar, I am now Darth Vader, hope you like that too!! Everybody fears him too!
That everyone was afraid of electricity in the 19th century is like people were afraid of cars running on petroleum, when a German showed his vehicle driving on its own! Everyone thought it was cursed by the devil.
Yes you sure know a lot with that pic, but I agree: The more intelligence you give, the more intelligence people have, it is all in your own hands, not in GOOGLE hands for example.
Have a nice day!
(V) :THNK
I'll skip it this time too…
I thought you didn't want people to find out the truth (:WIN)
That's your biggest problem : The love is always in the air, and never in your bed (:TNG)
Greetz, Red.
Are you saying that you want to drag Ganda in the bed ? ;D
portus ganda huh? i'm famous (:KWL)
yeah >:( even my teletubbies hug didn't work. >:(
By the way, I've never seen a site that looks ugly using FF.
What strange sites they might be visiting?
LOL
Well this is the beauty of minimalism… less is more. It explains itself better than I, or anyone else, will ever do!
I thank nLite each and every day for a fine running system. :SMLR
Get an Outlook Web account. :-\
LA
That was the EXACT site I was using
Commodus wrote:
You forgot yourself Grin And Matty and Josh Wink
Thanks. Sorry, I was not aware of Matty and Josh already being in this game that much nowadays.
Maybe I should've mentioned them? ???
(:WIN)