Running "Run Diagnostics"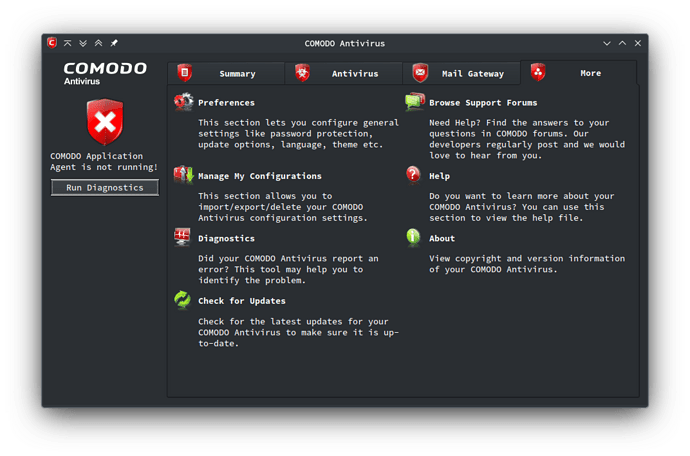 causes
![image|628x265](upload://w5MVmtuyCLOTeSC6Q5wXNGzmDD9.png)
to appear after gaining root access via KDE su. The issue here is obvious. Changing the system theme to a light background on black text doesn't help:
![image|628x265](upload://u8vrDyquixpy09Rrydytx7unbIS.png)
because obviously it doesn't adapt automatically to the theme either. root (the superuser of this machine) in this case was also using Breeze Dark, so there couldn't have been a theme mismatch.
When clicking the X on the window decorations,
![image|478x254](upload://j3oPGS4Uekrx4sBK6upryy3oXfi.png)
appears.
I can't even update Comodo:
![image|629x500](upload://7USsUIiZjy68b4r9kPqMRmQn4uE.png)
---
Part of the problem might also be that its installation location isn't even registered on $Env:PATH! Come on.
PS /home/rokejulianlockhart> cav
cav: The term 'cav' is not recognized as a name of a cmdlet, function, script file, or executable program.
Check the spelling of the name, or if a path was included, verify that the path is correct and try again.

[general]
 The most similar commands are:
   ➤ clv, cal, cat

PS /home/rokejulianlockhart> /opt/COMODO/cav