http://luckyshare.net/4145601760/Comodo Comodo 5.10 being comprmised by metasploit/doktorcranium
clean viewable copy. click the link and scroll down and click slow download.i found a utility to clean up his videos on youtube.
all of docktor craniums exploits…very blurry…but you can see comodo there…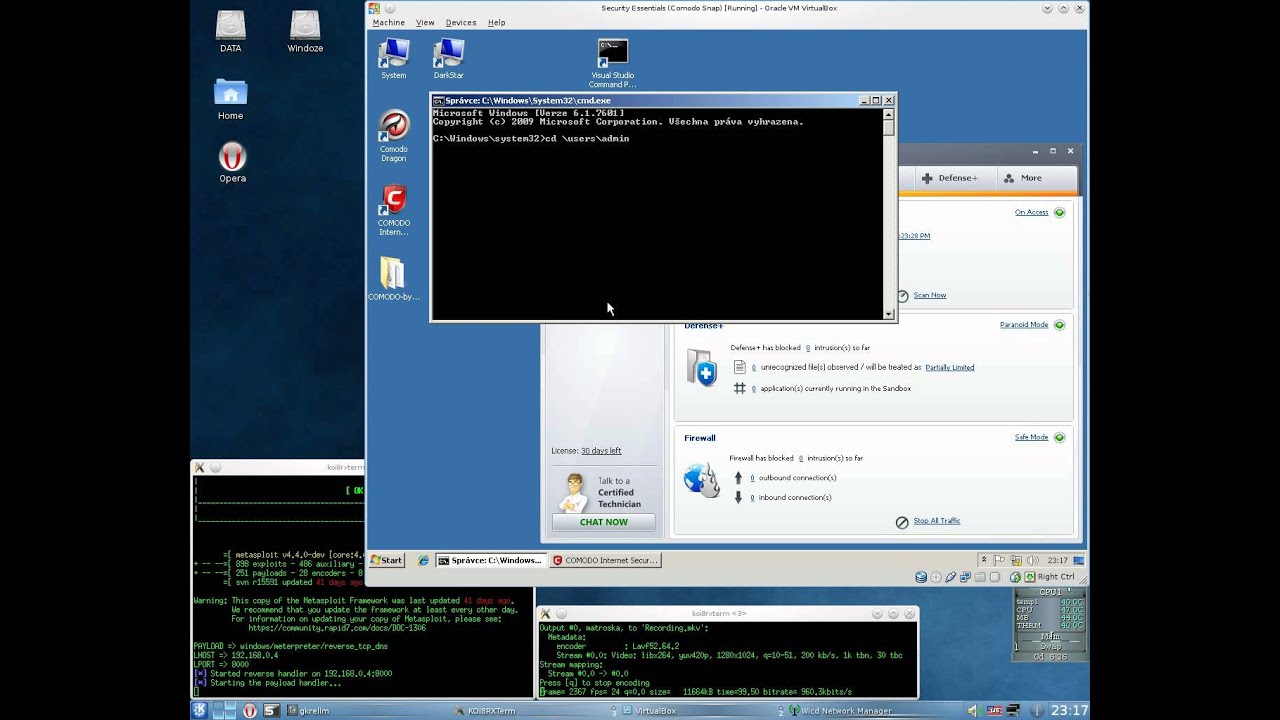 here are the total videos i have cleaned up so far
http://luckyshare.net/4145601760/Comodo Comodo 5.10 Clean Copy
http://luckyshare.net/4134163066/Hacking OSX with Metasploit.wmv OSX Clean Copy
http://luckyshare.net/1156392777/Hacking Ubuntu 1204 LTS with Metasploit.wmv Ubuntu Clean Copy
http://luckyshare.net/3418940662/Bitdefender 2013 64bit bypass and unload.wmv Clean Copy
If you are interested in me cleaning any more of his videos msg me and i will post them cleaned on luckyshare for you…If anyone in the Leak testing/Attacks/Vulnerability Research group wants to now everything about the Metasploit Framework exploit development kit, source code,wiki, archive, svn and the latest tarball msg me if you work for Comodo. If you don't work for Comodo i will give no information on metasploit to you.They have windows and linux platforms but linux is the main platform they exploit from. i also have a website url that shows the top exploit kits right now. Metasploit is leading. but this particular website lists so many kits you would never think their are that many there. i also have a list of ip address web page that shows exploits coming from botnets… Look at the botnet irc control panel screenshot attached. it's a control panel picture i found file while surfing around. Notice there is one Comodo comprimised. wish we knew who it was.We can tell that if your PC is named SCAN, you live in RU, Run XP and your run Comodo…no ip address listing on that page.darn…wish we could help.
Microsoft Essentials is clearly a joke as you can see so many W7 Pc's on that botnet irc control panel screenshot.
*I don't work for Comodo but Computer Security/Research I found too Truly Enjoy After Finding Comodo.
I was hacked and researched firewalls afterwards and was inspired by Comodo…so now i have joined the battle for a secure computer…And discovering http://www.matousec.com/projects/proactive-security-challenge-64/results.php
led me to say and believe…
Once A Comodo!
Always A Comodo!
Go Comodo!!
;D
[attachment deleted by admin]