Hello there,
Recently AV-Comperatives conducted a test about the AV database of consumer product of the members of AMTSO (Anti-Malware Testing Standard Organization).
To be honest, it's really sad to see that COMODO is not in the AMTSO to share the RTTL (Real Time Threat List) with other leading AV brands.
Here's the introduction from Real Time Threat List (RTTL) - AMTSO
What is the RTTL
The Real-Time Threat List (RTTL) is a repository of malware samples collected by experts from around the world. The repository is managed, maintained and secured by the Anti-Malware Testing Standards Organization (AMTSO).
 Why is there a need for the RTTL?

As malware now travels the globe in real-time with the majority of infections happening through websites then a real-time system was needed to provide testers of Anti-Malware solution a repository of malware they can use to validate that Anti-Malware products are working in real-time to protect users. The end result of this being that published test results allows business and consumer to make informed decisions on what Anti-Malware solution best meets their requirements.
 Who Submits samples to the RTTL?

Anti-Malware companies and Anti-Malware experts from around the world submit identified and validated samples to the RTTL, which include prevalence data that includes the distribution and source of the malware.
 Who uses the samples from RTTL?

Testers looking at the efficacy of Anti-Malware products use the samples to validate their own collected samples that they test with to check for prevalence to ensure that what they are testing with are real world examples that threaten users and businesses. Academics researching or analyzing trends in the Anti-malware industry can also use the RTTL to allow them to have a rich data source to work from.
Here's the link to join AMTSO
And here's whom have already joined AMTSO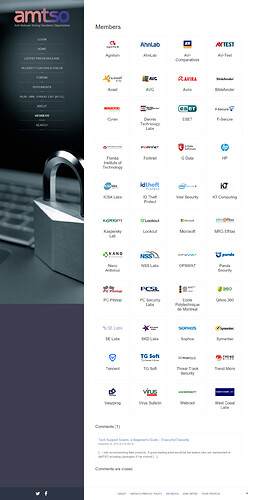 So COMODO, please consider joining AMTSO to collect and share more samples with each other.
If anyone is interested, here's the link of the pdf test report conducted by AV-Comperatives
Link Removed by Moderator
Please read Legal Notice from their website