Hello Everybody

I would like to share with you the details of Comodo Secure Shopping feature set with a whitepaper and a benchmark with other solutions in the market.
Please kindly check the table as below. Comodo Secure Shopping with its superior features is leading the market !
We would like to inform you that this is just the beginning.…

There will be many more unique features which will be included with future versions ; such as having the ability to run all your applications in the secure box.
What is more; we are happy to inform you that it is for Free ! :-TU :-La
Yes !

After internal discussions , we made a decision to release Comodo Secure Shopping as a Free Feature; because, we care about your security! Security is a right, not a luxury!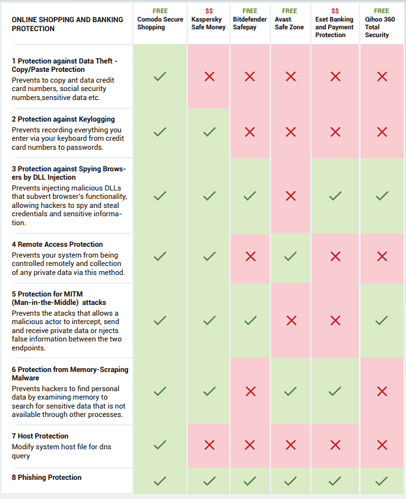 Keep following our next releases as this feature will be provided with CIS 10 free version. I will update you guys soon , it' s coming !

Kind Regards,
Buket
[attachment deleted by admin]