1. What version of CIS, or Comodo Firewall, are you currently using:
7.0.313494.4115
2. What actually happened or you saw:
Currently alerts for blocked websites are shown in the browser which isn't a 100% reliable, especially not when using Ask instead of Block.
3. What you wanted to happen or see:
I would like the option to have it show a pop-up instead, like the firewall alert. (i.e I should be able to choose between browser page alert and pop-up alert)
If the Website Filter is set to Block then a pop-up similar to this could be shown: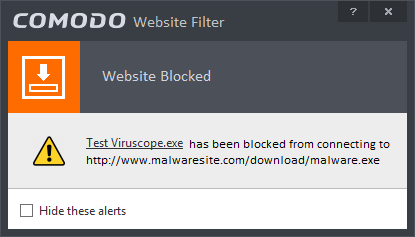 If the Website Filter is set to Ask then a pop-up similar to this could be shown: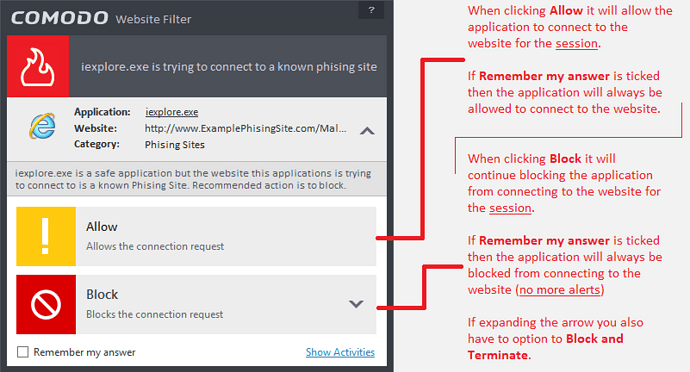 4. Why you think it is desirable:
In browser alerts are not 100% reliable, for example they don't always show and other times clicking Ignore for downloads will start the download over and over again forever until the tab is closed (harder than it sounds with new windows popping up every second)
This would make website filtering for other applications easier, say you set for example .exe to

Ask

for

Everyone

, that would often block applications from downloading updates and you wouldn't get an alert, however with my wish you'd get an alert where you can allow the application to connect to that website.
5. Any other information:
This wish would require the Website Filtering to have application based rules, I can see why that'd be an issue so another solution is to do what I've asked for but instead of making rules for certain applications when they try to connect to a blocked website, it would make the rules globally.
Clarification for the other way it could work (Note that this is not for the main wish, it's another way to go about it!):
Applications are mentioned (to see what application needed access to it)
Your answer would be applied system wide
[li]So if you answer Allow with Remember my answer unchecked then it allows that system for the session.
But if you answer

Allow

with

Remember my answer

checked then it adds the site to an

Allow Exclusion List

which would then automatically be made into an allow rule if it wasn't already.
[/li]