Hello,
Thank you for reporting this.
We'll check it and get back to you soon.
Kind Regards,
Erik M.
Hello,
This is to inform you that false-positive has been fixed.
You can update to AV database version 34351 of your Comodo security
product and confirm it.
Kind Regards,
Erik M.
hi meldan,
I have the db.34352… Still detected by AV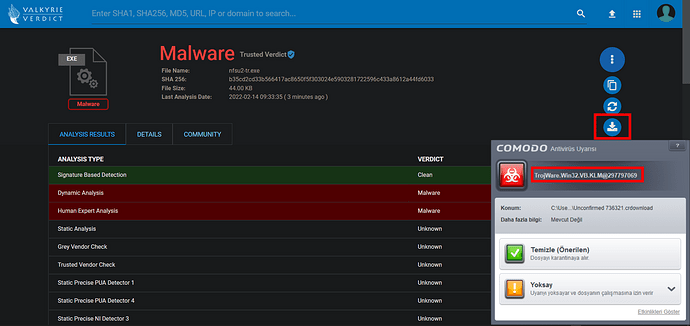 I'm downloading the sample from here: Valkyrie Verdict
Hello yigido,
As I see from your screenshot the detection is on a partial download that did not finish. Please check again.
Best regards,
FlorinG
Hi FlorinG,
It is the same file while downloading from the verdict valkyrie website. Please check it yourself
Thanks,
yigido