is there anyway to stop these advertisements.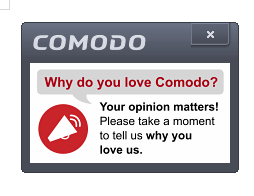 i know CIS totally free product. that's why I'm using it & i installed more than 10 of my friends computers . I'm very happy with CIS .
but these kind of messages annoying. one day saw more than 5 messages when i was working

please add don't display again box for these advertisements.
also today i installed CIS BETA 7 on my sisters Laptop , 1st time it detect a malware , there is a window open & ask how to clean this malware ( greekbuddy or clean it myself) i tick to don't display this message again & choose clean it myself. however that window opened again & again when CIS detect new malwares . don't display this message tick not working . i have no idea why this happen

never had that problem my other 2PCs ( i installed ICS few hours ago , now i check again & now problem gone )
sorry my bad English