I ran a scan today and it showed six detections.
Four of them, according to other posts I've read on these forums, are false positives. They are simply Windows time zone routines.
But there are two that I'm a little concerned about, and they are both associated with CrossLoop: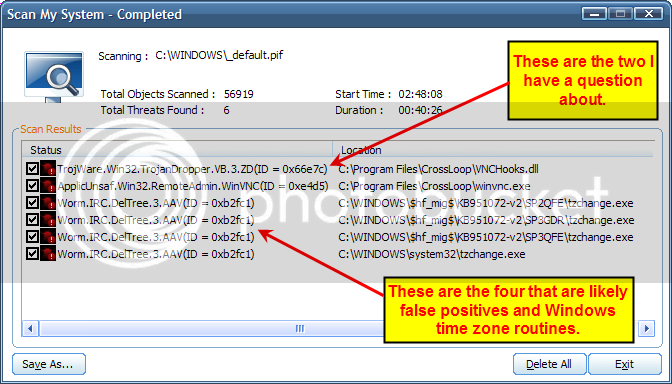 I know CrossLoop uses the TightVNC open source module, and it is a Remote Assistance type of software. Hence, it likely uses something similar to a trojan to manipulate someone else's desktop.
My AntiVir virus scan DID NOT detect anything on this, which makes me believe more that this is a false positive.
I Googled these detections, and all I got was removal techniques. I'm reluctant to remove these things because I don't want to disable Crossloop if indeed they are false positives and CrossLoop needs them.
(BTW, I've used CrossLoop with ZA and had no problems, but I understand from a few posts here that you need to open a port with Comodo . . . obviously I haven't used it yet with Comodo. Will have to fasten my seat belt when I do I guess)
Thoughts??