Good day,
I have a problem. I typed out a huge long post about this problem, then clicked preview. It looked as if the picture in my post had been resized a bit. I right clicked it, and selected "View Image". Sure enough, the original picture was in its full form. A pointless escapade, but one which would cost me dear… I clicked back, and my post was gone. Ouch. So here I am - the fool - typing out my post once again. My patience is being tested… Oh well.
Maybe that broke the ice a little.

I have two problems, really. My first is that I can't get my Vista laptop to communicate with my XP desktop without turning off Comodo Firewall. My second problem is that I'm having difficulty finding good help articles on how to solve my first problem. I need help.
Here's a little schematic of my proposed network: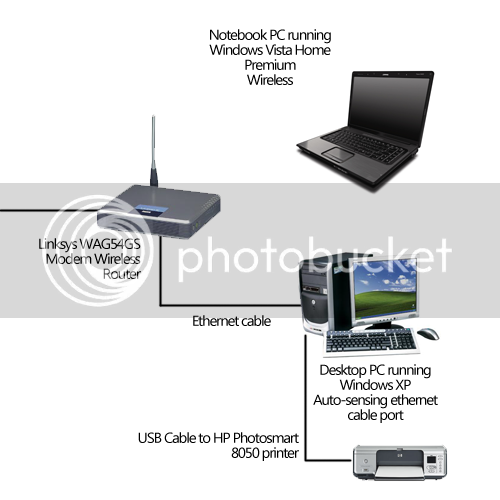 It seems that Vista and XP have totally different languages that I find difficulty in translating. All I really know is that XP doesn't have LLTD installed from the off. I have applied the patch thing to XP… So now what do I do?
I don't usually like to do this - I'd prefer to work it out for myself. However, my only solution is to turn off one of the computer's firewalls. Not ideal. So I'm now asking for your help. Please assist me!
Thank you very much.